ABOUT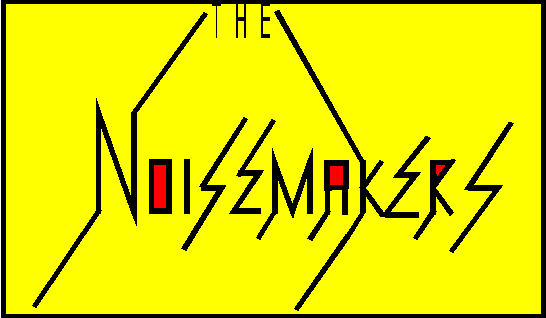 THE NOISEMAKERS HAVE BEEN AROUND SINCE 1978 AND HAVE HAD MANY MEMBERS FROM DIFFERENT WALKS OF LIFE COME IN AND OUT OF THE BAND. IT HAS INCLUDED BUT NOT LIMITED TO THE BELOW MENTIONED PERSONS:
Greg Romero
TK Wyley
Andy Woods
Randy Romero
Glen Erlenmyer
Greg Monroe
Dan Warren
There are many others that have been involved - please forgive that they are not listed!
THE NOISEMAKERS WERE A GARAGE BAND THAT PLAYED MANY VENUES IN SOUTHERN CALIFORNIA UP UNTIL AROUND 1990
THEY HAVE SINCE DISBANDED BUT MEMBERS STILL OCCASIONALLY COLLABORATE ON VARIOUS PROJECTS.
IN THE MID 1980'S THE NOISEMAKERS RELEASED THEIR FIRST SINGLE: I HATE LOVE and CAN'T PLAY THE BLUES IN THE SNOW.
I HATE LOVE HAD LIMITED ISOLATED RADIO PLAY AND OTHER LOCAL BANDS WERE HEARD TO USE THE SONG IN THEIR SHOWS.
AT PRESENT TIME THE NOISEMAKERS ARE NOW STRICTLY A SOMEWHAT FICTIONAL BAND, LIVING IN THE MIND OF ONE PERSON, COMING OUT TO PLAY EVERY TIME WHEN IN THE STUDIO.
THE NOISEMAKERS HAVE SEEMED TO BE AHEAD OF THEIR TIME, BECAUSE NOW SOME OF THE TYPES OF MUSIC THEY USED TO PLAY IN THE PAST ARE NOW WHAT IS BEING LISTENED TO.
WHAT WILL THE FUTURE BE LIKE?
STAY TUNED TO THE NOISEMAKERS AND YOU MAY SOON FIND OUT!
The Noisemakers are the creation of Fred Ceballos.
COPYRIGHT © 1998 Fred Ceballos